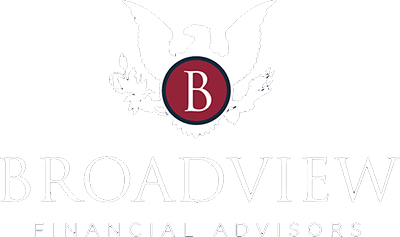 Broadview is an independently-owned financial advisory firm. We guide you according to the priorities you establish then help you custom tailor and integrate the right strategies and tools for each phase of your financial life.
We help you simplify your life, plan your financial journey, and reach your destination.

Private Clients
Our unique processes help guide you at each point along your financial journey.

Retirement Plan Sponsors
We help create successful retirement plan experiences for Plan Sponsors and Participants.

Business Owners
We help keep your priorities on track with your business and your personal goals.
Professional Partnerships
Developing strategic partnerships with other client advisors is a key part of our philosophy.
We Help Clients Build a Sustainable Future
Mobilizing capital to deliver sustainable growth and long-term value.
When you work with Broadview Financial Advisors, you have the assurance of working with an integrated team of financial specialists whose backgrounds, experience and credentials span multiple disciplines.
By examining your unique circumstances through the lens of various wealth and risk management disciplines, Broadview Financial can provide a seamless, holistic solution for managing all aspects of your financial situation.
Our professionals are keen observers and careful, empathetic listeners accustomed to working with successful individuals and business owners, and have vast experience addressing the unique requirements of managing personal and business wealth.
Are you ready to get started? Contact us today!
Broadview Financial Advisors, Inc.
Phone: 513.297.4007
Global: 888.240.4546
Fax: 513.407.3614
Email: info@broadviewfa.com
Address
250 Grandview Drive
Suite 475
Fort Mitchell, KY 41017
513.297.4007
Securities offered through Valmark Securities, Inc. Member FINRA, SIPC Investment Advisory Services offered through Valmark Advisers, Inc. a SEC Registered Investment Advisor 130 Springside Drive, Akron, Ohio 44333-2431 1-800-765-5201 Broadview Financial Advisors, Inc. is a separate entity from Valmark Securities, Inc. and Valmark Advisers, Inc.